Asahi Corporation Top > Services > Collection and Transport of Industrial Waste, Intermediate Processing

Collection and Transport of Industrial Waste
Intermediate Processing
Collection of Concrete Debris and Slag
RC-40 Sales

---

Crusher Run Stock Yard at Minato-ku



We collect concrete debris and slag at Hokko Recycling Center.

And we sell recycled crusher run grade RC-40 at Minato-ku and Konohana-ku in Osaka city.

For details, please contact to our Hokko Recycling Center.  
Hokko Recycling Center
2-1-60, Umemachi, Konohana-ku, Osaka city, 554-0032
TEL:+81-6-6468-5566 FAX:+81-6-6468-2233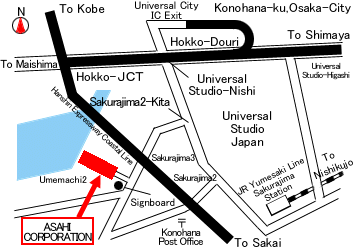 ---
Four Advantages by Asahi Corporation

---

1. System of Single Source Responsibility
We are engaged in the total continuous operation from collection and transport, to processing and recycling of industrial waste.
Our company bears all of responsibility for these treatments of industrial waste.

2. Business Entity with Permits and Licenses
Asahi Corporation and its affiliates are business entity with Permits and Licenses.
Our many clients appraise us as reliable and safe.

3. Serviceable Location of Plant
Our plant at Konohana-ku is located in center of Osaka and easily accessible.
This serviceable location saves your cost and time of transport.

4. Production of Recycled Crusher Run
In the view of Environmental conservation as our company's mission, we are engaged in recycling of concrete debris and slag.
And as a manufacture of recycled crusher run, we contribute to reduce the cost of clients.
---

Slag, Casting Sand, and Firebrick Recycling

---
Asahi Group offers recycling of slag, casting sand, and firebrick to promote risk hedge, saving cost, and Corporate Social Responsibility.


It might be thought that some slag and fire bricks can not be recycled and mostly disposed by landfill.
But our company is able to recycle most of these industrial wastes by intermediate processing at our plant such as segregation and crushing. These industrial wastes are recycled into the material for lower subbase.
We adjust the grain size, our products are grade RC-40 of 0mm to 40mm, RC-30 of 0mm to 30mm, and recycled sand.
We strictly check the quality of our products by surveillance camera at our plant to enhance proper recycling of slag and fire bricks.

Warehouse
Gross area of sight: 5,550 square meters
Shed Warehouse: 2,000 square meters
Open Yard Storage: 3,550 square meters

Capacity
Daily:1,200t
Monthly:30,000t

Results of disposal
Rubble and Debris 126,184.6t in the year 2009
Slag 6,887.41t in the year 2009


| | |
| --- | --- |
| Slag | Crusher Plant |
| Crusher Run | Recycle into Sub-base |
Case of Our Recycle Service
Case No.1
Client: Major Company of Electric Furnace
Beginning:
Client had had an existing processing company for all industrial wastes.
To reduce the risk that only one company was engaged in processing all of Client's wastes, the client gave us the chance to serve.
After starting our service:
When the existing processing company suspends the business temporarily, our company is in charged of processing client's industrial waste.
It saves the Client's space to stock industrial waste, and Client is able to reduce the risk by charging with processing of industrial waste to 2 companies.

Case No.2
Client: Major Company of Electric Furnace
Beginning:
Client had disposed all of their industrial wastes by landfill at Phoenix Landfill.
To enhance the corporate social responsibility, clients decided to promote recycle.
After starting our service
Our offer to the Client was that we started recycling from small amount at the beginning and gradually increased the amount after Client satisfied our service.
We are in charged of all of client's recycle at the present.

Case No.3
Client: Exist Client
Beginning:
One of our clients who gave us a disposal of rubble and debris gave us the sample of used HMS, hydraulic and mechanically stabilized slag, from reclamation work site of water management in Osaka Prefecture if we could dispose.
After starting our service
As same as slag, we analyzed No.13, No.45, and No.19.
The sample satisfied the standard of normal HMS. So we received this used HMS and disposed properly.
*The application of manifest may be changeable depend on the usage of HMS.
| | |
| --- | --- |
| | |
Why Recycling Recommended?
1.Cost Down
As we are company engaged in intermediate processing of industrial waste, clients save middle margin to agents by direct order for us to dispose.
Furthermore, as our system secures transparency, we can establish safe and reliable relationship with clients.

2.Risk Hedge
Asahi Corporation receives even small amount such as 10tons of industrial waste.
Please utilize our service as the support in preparation for the trouble of your existing processing company such as shortage of capacity or raising price.

3.Promotion of Corporate Social Responsibility
Asahi Corporation supports not only 3R, Reduce, Reuse, and Recycle, but also the contribution of clients to sound material-cycle society.
We are licensed ISO14001 and ISO9001, we strictly comply with the reduction of environmental impacts at intermediate processing stage of industrial waste.

For Inquiry
Asahi Corporation, Hokko Recycling Center
2-1-60, Umemachi, Konohana-ku, Osaka City, 554-0032

TEL:+81-6-6468-5566   FAX:+81-6-6468-2233
Inquiry Form