Resources Recycle
The Establishment of the Recycling-based Society is one of the most important themes for our country in the 21st century.
The Recycling-based Society means the society which consumption of natural resources is restricted, with a reduced environmental burden by reducing production of wastes as much as possible, recycling resources repeatedly, and disposing waste appropriately that cannot be used by any means.

In 2000 as the first year of environment, Japanese government enacted the Basic Law for Establishing the Recycling-based Society with 6 laws related to recycling, and furthermore from this basic framework law, the Law for Promotion of Effective Utilization of Resources and other laws were enacted/revised.

Presently the effort for 3R, Reduce and Reuse products, and Recycle wastes is the important theme.
Asahi Corporation offers the best service which manages both of environmental conservation and saving cost based on the motto of 3R and MOTTAINAI, Japanese word means 3R with Respect.


 
---

Heat Data Deletion

---
Complete Data Deletion?
The melting Deletion is the surest way!

The way of disposal of personal computer is incomplete under the present conditions. The data leak becomes serious problem in recent years.
"Deletion of data into recycle bin." "Overwrite by proper application software." "Hard disk is broken."
Are these ways sure of the protection for your important data?
These ways cannot make safe your data. Data may be readable even after disposal.

So Asahi Corporation offers the new way to delete data completely, to save your cost, and to recycle for environmental protection.
Data is deleted completely by 1600 degrees of high temperature which immediately changes hard disk to metal. Absolutely there is no risk of compensation for damage from data leakage.
Rest assured that we are engaged in the continuous operation from transport and safekeeping to heat deletion under our single source responsibility. And melted metals are recycled of course.
Besides hard disk, the body of computer is reused /resold based on the motto of environmental conservation and MOTTAINAI, Japanese word means 3R with Respect. Or the body is recycled into new product by the request of clients who want to dispose all parts of computer.

Asahi Corporation processes your computer based on our single source responsibility from collection until final disposal.
So please leave us the data deletion, reusing, and recycling of your computer.
Of course, we issue the certification of data deletion and manifest of recycle.
Melt by 1600 degrees of high temperature of electric furnace.
Data deleted completely.
---

Plastic Recycle

---
Asahi Corporation offers proper treatment and recycle of plastics.
If you have problem of cost for disposal of plastics, please contact to us.
Asahi Corporation supports various needs of clients widely by our ARCS, Asahi Resources Circulation System.



ARCS is the single source system of plastic recycle: we are engaged in the operation continuously such as collection, processing, pelletizing, and sale.
We are licensed in Japan and Philippines, and we are engaged in plastic recycle with transparent and safe.


Subic Amino Hightech Corporation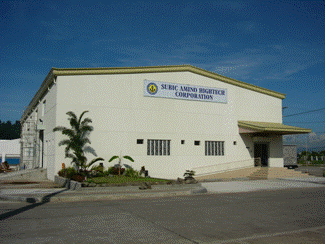 Asahi Corporation has own factory to recycle plastics at Subic Bay Freeport Zone in Philippines.
Corporate Name
SUBIC AMINO HIGHTECH CORPORATION
Location
Boton Light & Science Park, Subic Bay Freeport Zone, Philippines
 TEL +63-47-252-7337, FAX+63-47-252-7337


Establishment
March, 2006
Capital
US$280,000
Business
Recycling and Trading of Plastic

Site Area
1,700 square meters

For Inquiry
Asahi Corporation
Warehousing Sales Department
2-1-60, Umemachi, Konohana-ku, Osaka City, 554-0032

TEL:+81-6-6468-1551   FAX:+81-6-6468-2175
Inquiry Form